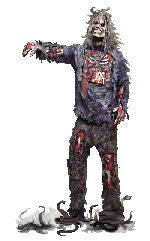 2008 Halloween stats:
2008 has been a record year for us... For starting late! With home construction and many other events taking up much of our time, setup for 2008 didn't really start until the second weekend of October. We were originally planning on scaling back significantly this year because of all the other commitments, but got so many emails and inquiries about the event (including from the Washington Post) that we couldn't resist. Late start and all, we decided to try and go all out.
In 2006 we did a combo music/light show and graveyard that was just too busy and noisy for our tastes. In 2007 we did away with the music/light show and simply did a very cool haunted walk around the front of the house including porch and carport. We got so many inquiries asking about the light show that we decided we had to try and fit it in again - but thankfully this year (for the first time in over 2 years) we have a back yard that's not full of mud and construction debris - which allows us to extend the walk-through all around the house - keeping the light show up front where it doesn't interfere with the "spooky ambience" of the walk. The light show JUST launched tonight (10/15) and will continue to run nightly from 6:30PM until 9:30PM weeknights, and until 10:30PM on Friday and Saturday evenings. Tune your radio to FM 99.9 to hear the show.
We're still setting up (no help yet - just the two of us doing it all so it's going slowly!) but will have things open in time for the Halloween weekend (see the 2008 show schedule). Once again we're collecting canned food donations for the local (E.C.H.O. food bank) - and with the extra publicity this year we hope to have a significant haul to deliver to them come November!

Click here to see photos as we were setting up
And naturally, we got a lot more pictures AFTER the big day:
Click here to see our extensive collection of "after" photos.
ScaredyCat, Spooky Trang, Creepy Chris & Wolfman Christopher hanging out between scares!!!
Our volunteers: Ghoulish Khoi, Spooky Trang, Frightful Nhu & Little Fearless Tram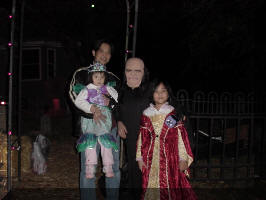 Creepy Chris gives the Washington Post a graveyard Tour:
(These photos by C. Woodrow Irvin, Washington Post)