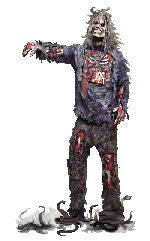 2009 Halloween Photos
Due to family health issues and the time demands of a new job we were unable to operate a walk thru or any of the animated props in 2009, but we did run an expanded music and light show using our Light-O-Rama unit in the extensive graveyard we created in the front yard. For details and links to the videos for the music and light show click here.
We did build out a large graveyard in the front yard. Some photos of the initial setup of the graveyard are here.
Click on any thumbnail to see the full-size photo.
Graveyard shots:
The mausoleum "Stage":
The new "Headless Horseman":

And the grave digger:
Our bride is still waiting for her groom:
Victor and Lucy hanging around the control center mausoleum:
And on the porch
The Ghost family was featured in the light show:
Vlad:
There be scarecrows along the driveway:
And your hosts:
Cast group shot after the show: