Midwest Haunters Convention 2015
This was our first time visiting the Midwest Haunters Convention. We've heard such good things about the show that we had high hopes.
It was a relatively large show; more people and more vendors than the National Haunters convention and perhaps a bit larger than the Hauntcon we went to as well.
The convention center itself was nice; though the Holiday Inn we were told was "walking distance" turned out to be over a mile each way... So we ended up using the hotel's free shuttle quite a lot. The exhibit hall was spacious and neat; the food court had a nice selection and the ballrooms were large.
Communication was an issue... Though we had pre-registered well in advance, until we got there we had no idea where things where, where to go, or what the schedule was. When we got registered in person we did get a summary schedule, but it had little information on it.
You can click on any of the images below to see a full size picture.
Columbus:
Columbus was an interesting city. Neither of us had ever been there before. There were signs of formerly rundown areas throughout - but most appeared yo have been cleared away and turned into open spaces. Very little traffic (compared to DC) and not many people on the streets. There were signs everywhere of an up-and-coming culture trying to revitalize the city. Zip/drop-off cars, bike racks (including automated bikes for rent), and trendy clubs with sidewalk seating full of 20-somethings looking to be seen.
It was a 7 hour drive for us; which seemed long on paper but was rather nice... Pleasant mountain scenery through Northwest Maryland and West Virginia and the traffic was light the entire way. We heard others talking of 12+ hour drives to get there.
A few pictures from the blocks behind the hotel:
Pre-Haunt Tour:
Once we found the pick-up spot for the pre-haunt tour we were quickly shuttled to the "Haunted Hoochie". Great atmosphere and phenomenal actors.. and much more "in your face" than most haunters are used to (it's VERY hands ON). Unfortunately once we arrived (we were about 2/3 from the front of the line) we stood in line for over 2 HOURS before we got inside. Miller Lite and hot dogs were being sold; we were glad we had the sense to eat dinner BEFORE we went.
I wish I had gotten some pictures in the haunt, but by the time we got in we were so exhausted we just wanted to get through it; which was a shame because they had some REALLY impressive scenes.
Video Clip 1 (wait line). Video Clip 2 (hoochie dancer).
Classes: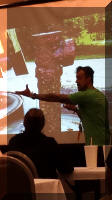 We've been to a wide variety of classes at the other shows we've been to so we made a point of picking two from this show to see how they compared.
They only had 2 classrooms operating - which is fewer than most years at the National convention - but they had a decent assortment of topics. We chose a haunt makeup class and a scenery painting class. Both were well done and the presenters entertaining and informative. Both had problems with the show-provided A/V/ equipment though; the projectors constantly cutting out on them - interrupting their flow.
The classes themselves were $30 each ($25 if we had registered for the classes in advance)... a bit pricey but worth our time.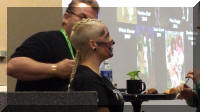 Masquerade Ball:
From pictures and videos I've seen online I knew the party was going to be impressive. These people take their costumes seriously! There were AMAZING costumes - and LOTS of them.
Not enough seats though... and though we never got near the food I understand it was more appetizers - and didn't last long.
Unlike the National convention's (lousy) DJs in the past several years - the DJ here had the dance floor rocking and packed most of the evening.
Trade Show floor:
The trade show floor was large - and happily for us we found many more thing s worth buying than we've encountered at the National convention in several years. We picked up several items each time we went through the show, and got some very helpful information from several vendors.
We were surprised that the show floor was only open Saturday and part of Sunday... Not much time to shop - but there really wasn't that much competing with shopping time either.
We were pleasantly surprised to see Distortions Unlimited at the show; with Ed and Marsha manning their booth. They had a very cool zombie lockup which I wish I had gotten video of.
(Click on any image below to see the full-size photo)