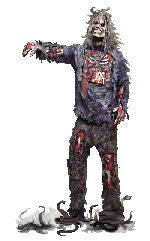 2016 Photos from the Transworld Convention in St. Louis. Click on any image to see the full-size photo.
We spent the St Patrick's Day weekend of 2016 at the Transworld show; the largest annual Halloween and Haunted Attractions show in the country. In past year's we've attended the Virginia Hauntfest (2007), National (aka Eastern) Haunter's Convention 2008-2013), HauntCon (2011), and the Midwest Haunters Convention (2015). Transworld dwarfs them all. It took HOURS just to make it through the trade show floor; SO many vendors and so many fantastic props and ideas. We also attended several seminars - which were very informative (though much pricier than all the other conferences) and we attended several of the after-hours events. An excellent (though expensive) trip but very worthwhile.
Have a look below at pictures taken from the various areas; there are so many I split them up into separate pages.
The City Museum Night Out 3/18/2016: Coming soon...
The Darkness Haunt Tour 3/17/2016: Coming soon...
The Exclusive Tour of Six Flags 3/19/2016: Coming soon...
The Trade Show floor 3/17-19/2016
I